'Lo. :) My name is Lily, and I have some goodies for you...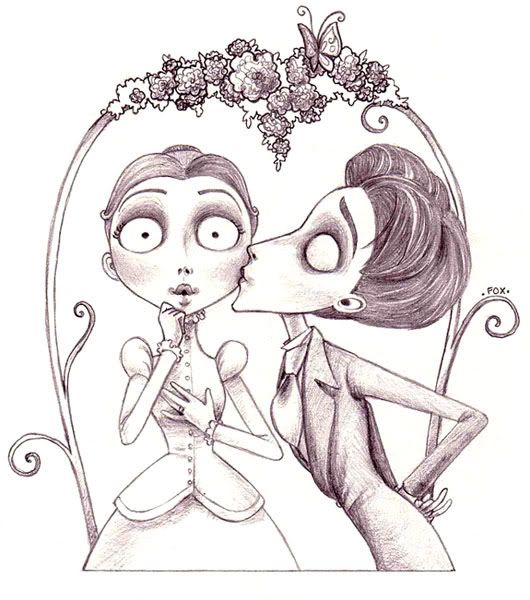 Title: In The House By The Sea
Fandom: Tim Burton's Corpse Bride
Pairing: Victor/Victoria
Rating: G (for now)
Feedback: Oh yes, please. :)
Notes: Many thanks to
victoriaeverglt for providing some excellent imagery.
Warning: Spoilers abound!


Chapter One: Sweet Home

With Victor's and my combined savings we bought a cunning house by the sea that is both comfortably close to the graveyard and gratefully removed from the fish market and my parents' manor. It is everything I had dreamed of as a girl–––the gardens are bright and lush, the view from every window is agreeable and there is no room, no space at all that appears drab or dreary. It seems as though our marriage has been welcomed with a flux of life, and that our happiness is reflected by the things that surround us.

I did not allow my husband to carry me across the threshold, as he is a man of delicate constitution and I was afraid that the weight of my dress alone would overwhelm him, and so he danced me across the threshold instead. A perfectly lovely substitute, in my opinion.

A modest staircase leads from the front hall to the upstairs, where on one side are the doors to a spacious water closet with a fireplace and a bath tub, which I shall look forward to soaking in, as well as Victor's study, where he has been researching and illustrating the local flora and fauna, of which there is an abundance. (I suggested that he should compose an authoritative book on the regional wildlife, and he has taken to the task with great zeal!) On the other side is a nursery, for the day that we are blessed with a child, and beyond that is our marital bedroom. It is there that my happiest and most precious memory to date took place, a story which I shall recount at another time.

On the first floor, beyond the front hall, is the sitting room, which is cozy and brightly-coloured, a wholly welcoming atmosphere. The wallpaper, which was of special importance to Victor, is striped in honey-colours and inlaid with impressions of butterflies. When I sit in this room, I feel as if I am inside a sunflower, filled with cheer and warmth.

By the sitting room windows is the grand piano that once occupied the great hall of Everglot manor. I like almost nothing better than to sit on the sofa and stitch needlepoint or quilt while Victor plays for me, the notes vibrating richly throughout the house. It pleases me nearly as much as the way he smiles at me over the top of the piano.

The sitting room is smaller than even my own bed-room at Everglot manor–––indeed, our new home is significantly smaller than what I am used to–––but I would not exchange it for anything in the world. I feel as though I have been released from a prison. I feel as if I've been reborn.



examples:







I took some screencaps from sets of clips from Corpse Bride, which you can find here, and made some icon bases for you to take and dress up to your liking.


01.

02.

03.

04.



05.

06.

07.

08.



09.

10.

11.

12.



13.

14.
15.

16.



17.

18.
19.

20.



If you do take any, there's no need to credit me, I just ask that someone make me a couple for myself. I'd be very grateful if someone would make up No.10 to say "watch as I fumble", and in tiny letters, "fumble fumble", and so on. :)

Comment, take, share, enjoy, etc.